Return to Teaching eHRAF: Tile View | Table View
View exercise overview
Overview
Exercise ID: 1.05
Class size: Any

Level(s): I
Source: Produced by HRAF

Learning Objectives
Does the exercise compare 2 or more cultures?
Yes
Subject selection:
Open choice by student
Subjects/OCMS, if applicable:
Region selection:
open (student choice)
Region, if applicable:
Various
Culture selection:
Student chooses from entire collection
Cultures/OWCs, if applicable:
Samples:
Classroom Guide
Instructions for navigating eHRAF included?
Yes
Assignments for students to complete in groups?
No
Assignments for students to complete on their own?
Yes
Instructions for Microfiche version?
No
Christiane Cunnar, Human Relations Area Files
Unlike most exercises in Teaching eHRAF that focus on searching ethnographic texts, this exercise uses the Browse Cultures function and information from the culture summaries. The culture summaries contain short entries on the following categories:
Types of Categories found in a Culture Summary
Ethnonyms
Orientation

Identification and Location
Demography
Linguistic Affiliation

History and Cultural Relations
Settlements
Economy

Subsistence and Commercial Activities
Industrial Arts
Trade
Division of Labor
Land Tenure

Kinship
Marriage and Family

Marriage
Domestic Unit
Inheritance
Socialization

Sociopolitical Organization

Social Organization
Political Organization
Social Control
Conflict

Religion and Expressive Culture

Beliefs
Religious Practitioners
Ceremonies
Arts
Medicine
Death and Afterlife
Through this exercise, students who are new to cultural anthropology, get a better sense of general aspects of a culture.  For example, they will learn that a culture may have a number of different, yet similar sounding names (e.g., Shluh, Shleuh, Chleuh, Chleuch) or are referred to by completely different names  (e.g., Sous for Shluh).  These alternative names are referred to by cultural anthropologists as "ethnonyms."  In exploring the culture summaries, students will find that cultures and ethnic groups, although located in the same geographic region, may vary significantly in their cultural identity.
Instructions for the "Culture Summary" Exercise
Before beginning with steps 1-3 of the following exercise , you first must log on to HRAF's online ethnographic database — eHRAF World Cultures by clicking http://ehrafworldcultures.yale.edu.
Step 1. Once you have entered the eHRAF World Cultures database click the Browse CULTURES button on top (see Figure 1 below) then click on the by Region button (e.g., Africa).  To get to a culture name you then have to click on a sub-region button (e.g., Northern Africa). This will open up a list of cultures,ethnic groups, and indigenous people for a particular region.
Step 2. Each culture has what's called a Culture Summary.  A Culture Summary has a short, encyclopedia-style entry on various categories, including ethnonyms, identification and location(or alternative names for a culture, see blue circled header in Figure 2) and more as displayed in the list above.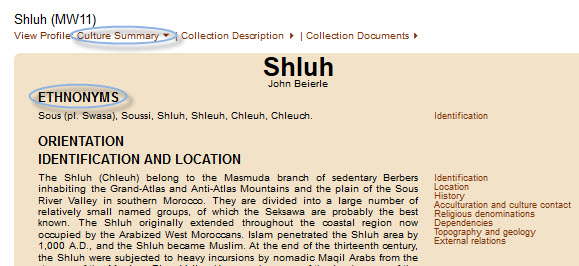 Figure 2. Screenshot of a Culture Summary with a few categories (e.g., ETHNONYMS)
Step 3.  Pick three cultures from the Browse Cultures menu for one specific sub-region (see Figure 1). Once you have picked your culture names click on the Culture Summary of each to choose any four categories. The bulleted list above gives an overview of all categories which can be found in a Culture Summary.  Use the text  from the categories to compare and contrast general aspects of the three cultures you have chosen.