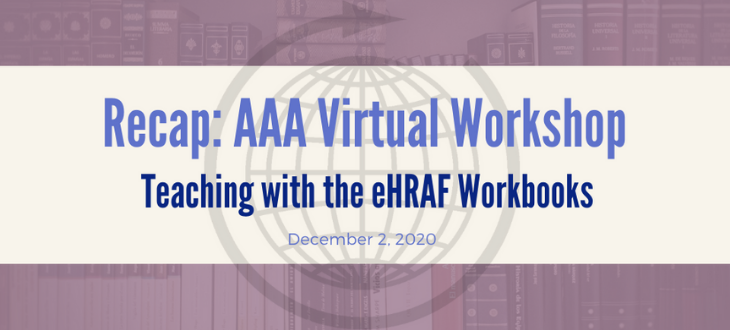 We are delighted to report that our AAA Virtual Workshop, Teaching with the eHRAF Workbooks, was a great success. Dr. Francine Barone and Matthew Longcore would like to thank all attendees as well as the American Anthropological Association for enabling and hosting this valuable event.
We greatly enjoyed the opportunity to meet anthropology instructors from the US and around the world, and to share all the hard work that we have put in throughout 2020 in order to prepare HRAF's first complete online workbook, Introduction to Cultural Anthropology. Your feedback during the event will assist us in our endeavors to produce the best materials for teaching anthropology, archaeology, and cross-cultural research with the eHRAF databases.
This slideshow provides a recap of the event, featuring a selection of comments from our workshop participants.
If you registered for our event, we will be in touch soon and look forward learning about how you are planning to teach with eHRAF for the Spring semester.
If you missed our AAA Workshop, don't worry! You can learn more about the eHRAF Workbooks and other HRAF resources on our Teaching Online page. Instructors wishing to teach with eHRAF are welcome to contact Matthew Longcore, Manager of Outreach and Member Services, to schedule a personalized webinar.
We expect to showcase our next set of workbook activities based on the eHRAF Archaeology database at the Society for American Archaeology conference in Spring 2021.