We are excited to announce the launch of our newly redesigned, comprehensive user guide for the eHRAF Databases. Our updated guide covers everything inside eHRAF, including Browse, Basic Search, Advanced Search, and filtering and managing search results. You'll find sections explaining the cultural, archaeological, and subject classification systems used; how to find/select sampling and subsistence types; permalinks, citation information, print and email options; and general tips for navigating eHRAF.
The revised, step-by-step approach in the guide makes exploring, teaching and learning about eHRAF easier than ever before for researchers, faculty and students alike.
Where to find it
The eHRAF user guide is conveniently located in the eHRAF Database interface. In eHRAF World Cultures or Archaeology, simply navigate to the top of the screen and click the

 button as illustrated below: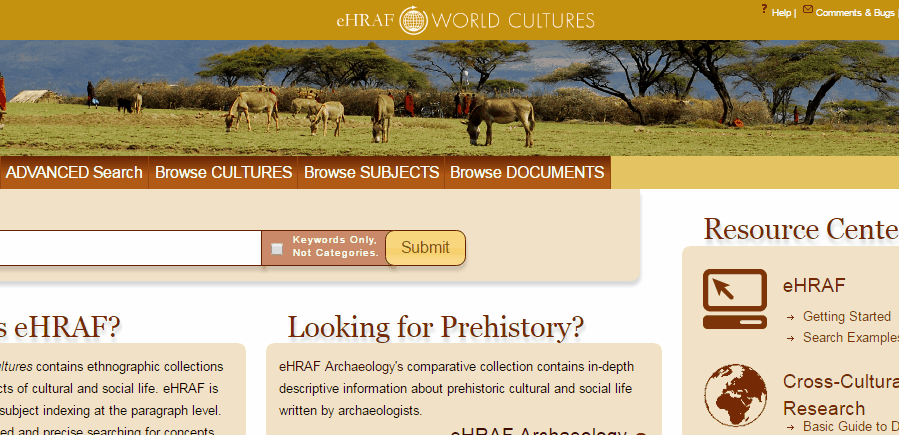 A printable PDF version of the eHRAF User Guide is available on our Help & Support page.
What's going to change?
We've made the eHRAF user guide more intuitive to navigate. Whether you are a beginner user, new faculty member, undergraduate student, or expert researcher, this version has been designed to help walk you through all aspects of browsing and searching eHRAF. We have also added new sections and more thorough explanations of key concepts and aspects of the databases and their contents.
The redesign makes it easier to:
Get an overview of eHRAF from start to finish
Navigate to specific sections of the guide that are relevant to you
Print, save, share and link to help information
Keep the guide open in a separate while browsing and searching eHRAF
Allow us to incorporate more regular updates based on your feedback
What will stay the same?
You can still find our help link in the same place as always: on the toolbar at the top of the page anywhere in eHRAF. Remember that none of the components of the eHRAF databases have changed, just the guide showing you where everything is and how it all works. You may, however, discover features that you never knew existed!
Be sure to update your old links!
Some of the contents of the user guide were previously located on our homepage instead of in eHRAF. Since we have now moved those sections into the database guide, you may find that content which once appeared on our homepage no longer exists. Any old links should automatically redirect to the relevant sections of the eHRAF user guide. Nonetheless, be sure to update your website links, coursework information/syllabi and personal bookmarks to the new guide location. Librarians should also double check that their publicly visible URLs have been updated accordingly.
Direct Links:
Note that each section within the user guide has its own permalink and print buttons if you wish to bookmark or share a specific page. Just look for these icons at the top of the screen: 

Additional Help & Support 
You can find additional user help services on the Help & Support page on our homepage, including information about getting personalized support, such as signing up for a free weekly webinar; troubleshooting information; FAQs; video tutorials; and other help resources.
Companion documents for the eHRAF Databases can be found on the Reference Materials page which contains PDF and Excel files of our most commonly requested documents, including samples used in eHRAF and lists of cultures, ethnographic subjects, and archaeological traditions currently included in the eHRAF databases.