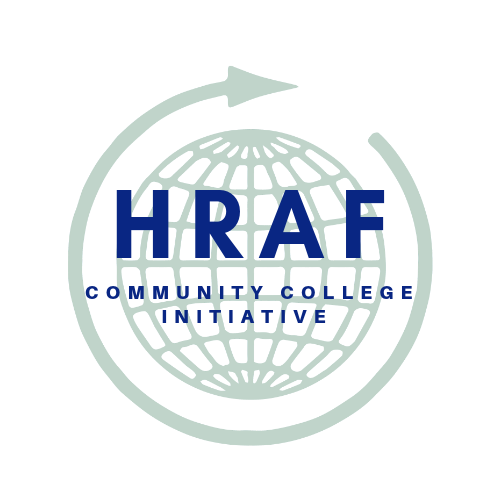 The Human Relations Area Files (HRAF) at Yale University is pleased to announce a new initiative to expand our engagement with community colleges. The HRAF Community College Initiative recognizes the important role of community colleges in providing students with access to quality, affordable opportunities for higher education. According to the American Association of Community Colleges (AACC), there are nearly 1,200 two-year, associate degree-granting institutions which "enroll nearly half of the country's undergraduates and serve the majority of underrepresented student populations in the United States." Community colleges serve over 13 million students and graduate 20-25 percent of all first-time, full-time students.
The new HRAF Community College Initiative is guided by the three major principles which are at the core of the Society for Anthropology in Community Colleges (SACC), the section of the American Anthropological Association (AAA) which promotes excellence in teaching among community college anthropologists. The three principles are as follows:
Supporting diversity and equity
Sharing resources
Advocating for students
Anthropology is at the forefront of promoting cross-cultural understanding in the age of globalization. HRAF is a nonprofit global organization with 70 years of history. We are an internationally recognized organization in the field anthropology with over 500 affiliated members around the globe. Our mission is "to promote understanding of cultural diversity and commonality in the past and present." To accomplish this mission, HRAF produces scholarly resources and infrastructure for research, teaching and learning, and supports and conducts original research on cross-cultural variation. Our newly expanded resources for teaching and new affordable membership dues have been designed to better serve community colleges:
Expanded Resources for Teaching
To support the engagement of community colleges, HRAF will expand our open access resources. We will continue to add content and topical modules to Explaining Human Culture, our database that summarizes the results of cross-cultural research. We will add exercises to Teaching eHRAF on our homepage that emphasize teaching materials for introductory courses. HRAF also produces social media posts on topics of interest for undergraduate students, and we send out monthly newsletters.
Our newest teaching activity, Cultures of the World Research Project, is a three-part ethnographic and ethnological research project (research proposal, report, and presentation) specifically designed for undergraduates in introductory level anthropology courses, including those courses offered at community colleges. The project involves choosing a cultural behavior and comparing it across three cultures: choosing two nonlocal cultures to read about the behavior and a third local culture to study in-person.
We are also in the process of the developing a new teaching exercise to supplement our recent post, Food Anthropology on Television: Ethnographic Culinary Adventures. This assignment will engage students in anthropological research using eHRAF World Cultures and eHRAF Archaeology to learn more about the anthropology of food from a cross-cultural perspective.
More Affordable Membership Dues
To promote broader access to our two main databases, eHRAF World Cultures and eHRAF Archaeology, our board has approved a new more affordable dues structure for community colleges. Community college membership dues will be based on annual library budget for material expenditures. More information can be found here.
Think Globally, Act Locally
Currently HRAF has nearly 30 community college members across the United States from coast to coast. Our community college members come from the states of Washington, Hawaii, Texas, Michigan, Ohio, and New York, among others. We hope to strengthen our ties with existing members, while connecting with prospective new members.
As we develop a program of outreach for community colleges, HRAF seeks to learn more about the teaching of anthropology at our own member institutions. Our preliminary research indicates that anthropology is a prominent feature of the curriculum at community colleges and also at the four-year institutions where community colleges students aspire to transfer.
Case Study: Connecticut
Our neighbors here in Connecticut have a thriving system of 12 community colleges. Anthropology is part of the liberal arts curriculum at community colleges, and it is considered a highly transferable subject for earning transfer credit at four-year colleges and universities.
One example of a community college doing great work is Norwalk Community College, a longtime HRAF member.  NCC has a highly developed anthropology program with several course offerings on topics ranging from cultural anthropology to archaeology. NCC students may join the Archaeology Club and they may also pursue the Archaeology as an Avocation certificate program.
Liberal arts courses taken at community colleges are among the most transferable of credits. At the University of Connecticut, a HRAF member that serves transfer students from community colleges, the general education requirements listed in the 2019-20 Undergraduate Catalog include Content Area Four: Diversity and Multiculturalism, which addresses issues of diversity and multiculturalism both inside the United States and globally:
In this interconnected global community, individuals of any profession need to be able to understand, appreciate, and function in cultures other than their own…By studying the ideas, history, values, and creative expressions of diverse groups, students gain appreciation for differences as well as commonalities among people.
Community colleges in the State of Connecticut are governed by a Board of Regents (BOR) for Higher Education with a stated initiative of "consolidating 12 community colleges into one singly accredited institution to sustain and enhance education quality, affordability, and accessibility." These ideals – "quality, affordability, and accessibility" – are fully in alignment with the mission of HRAF and we support the goals of the BOR's Integrated Library Project.
In the coming months, HRAF will focus outreach efforts on community colleges, and we welcome input from current and prospective members. Anthropology faculty, academic librarians, independent researchers, and members of the Society for Anthropology in Community Colleges (SACC) are all invited to contact HRAF with innovative and practical ideas.
For more information about the HRAF Community College Initiative, please contact Matthew Longcore, Manager of Outreach and Member Services, at matthew.longcore@yale.edu.