As we reflect on 2022 and begin a new year, HRAF would like to extend a heartfelt welcome to our newest member institutions. We are especially pleased by the diversity and global reach of these members, which include universities, colleges, international organizations, and independent researchers.
Below is a collage featuring each institution who joined us in 2022, followed by a list of members and their locations. As the depth and breadth of our membership continues to grow, we look forward to engaging with our new members and to following the progress of their research and teaching activities using eHRAF World Cultures and eHRAF Archaeology.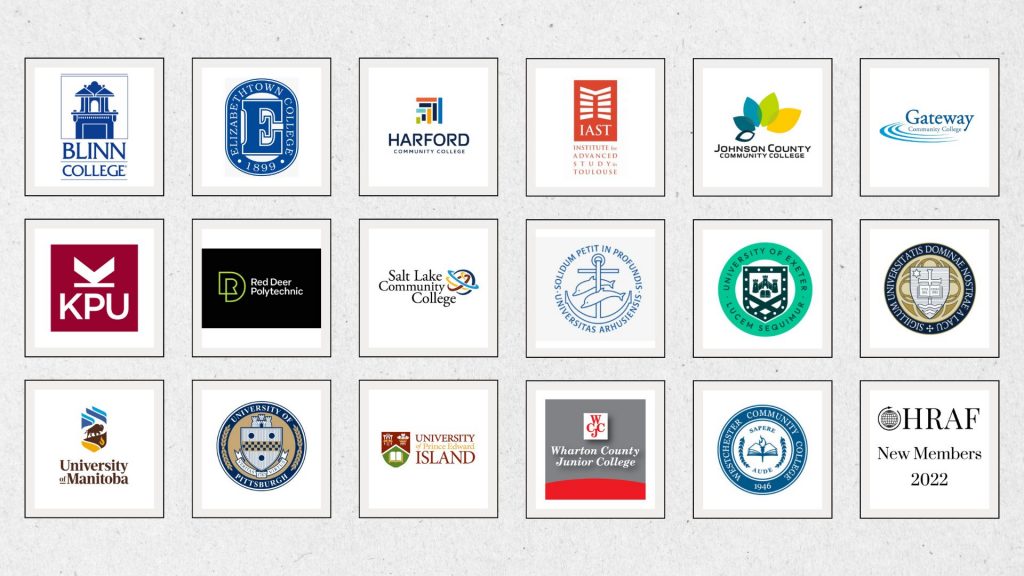 Blinn College
Brenham, Texas
Elizabethtown College
Elizabethtown, Pennsylvania
Gateway Community College
New Haven, Connecticut
Harford Community College
Bel Air, Maryland
Institute of Advanced Study in Toulouse
Toulouse, France
Johnson County Community College
Overland Park, Kansas
Kwantlen Polytechnic University
Surrey, British Columbia
Red Deer Polytechnic
Alberta, Canada
Royal Danish Library Aarhus University
Aarhus, Denmark
Salt Lake Community College
Salt Lake City, Utah
SUNY Westchester Community College
Valhalla, New York
University of Exeter
Devon, England
University of Manitoba
Manitoba, Canada
University of Notre Dame
South Bend, Indiana
University of Pittsburgh
Pittsburgh, Pennsylvania
University of Prince Edward Island County Junior College
Prince Edward Island, Canada
Wharton County Junior College
Wharton, Texas
Getting started
Are you a librarian, researcher, instructor, or student exploring eHRAF World Cultures and eHRAF Archaeology for the first time? You may wish to take advantage of one of our personalized webinars tailored to your research or teaching needs.
Share with us
We welcome researchers and instructors across all of our member institutions to share with us any original eHRAF-related research, publications, and teaching materials, especially for cross-cultural, collaborative, or interdisciplinary projects. We are happy to feature these contributions on our homepage and/or social media channels.