The couple of steps show you how you can search for "West African burial practices" using HRAF's online ethnographic database.
STEP 1. Cultures and Topics Covered in eHRAF World Cultures
First become familiar with the types of subjects, topics, and culture names covered in eHRAF World Cultures by visiting HRAF's home page:
Topics Covered: https://hraf.yale.edu/online-databases/ehraf-world-cultures/outline-of-cultural-materials/
Cultures Covered: https://hraf.yale.edu/online-databases/ehraf-world-cultures/cultures-covered
You can use the two links to "pre-select" the subjects and/or cultures for your Advanced Search in eHRAF World Cultures and download/print the list of cultures/subjects. However, note that HRAF regularly adds cultures to eHRAF World Cultures and so check for updates. Use the "Topics Covered" list to pick "not-so-obvious" subjects. For example, if you scroll to OCM 760 you'll see a number of subjects on "death" including OCM 764 Burial Practices, OCM 765 Mourning, OCM 767 Mortuary Specialists, etc. Reading the OCM descriptions will help deciding which to use for the eHRAF Advanced Search.
Tip! Download and print the OCM subject list (referred to as PDF Document) and use it as reference or to mark your selected subjects.
STEP 2. Searching eHRAF World Cultures with "ADD Cultures/Subject" function in Advanced Search.
Log on to http://ehrafworldcultures.yale.edu (contact hraf@yale.edu if prompted for log-in) and click Advanced Search.
To select culture names for a particular region and/or country and OCM subjects use the "Add" function. After you have picked the cultures/subjects from a menu your eHRAF Advanced Search may look like this: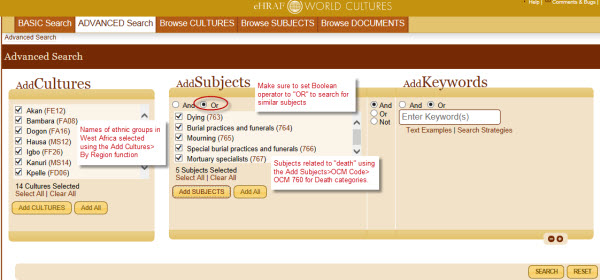 Additional useful links for understanding how eHRAF works:
https://hraf.yale.edu/resources/guides/search-methods-for-ehraf
https://hraf.yale.edu/resources/guides/practical-guide-to-ehraf