HRAF Global Scholar: Dr. Dagnachew Adefris Gebrehiwot
Title: Assistant Professor in English Literature, Department of English Language and Literature, College of Social Sciences and Humanities
University Affiliation: Woldia University, Ethiopia
Research Topic: Environmental politics and post colonialism in African literature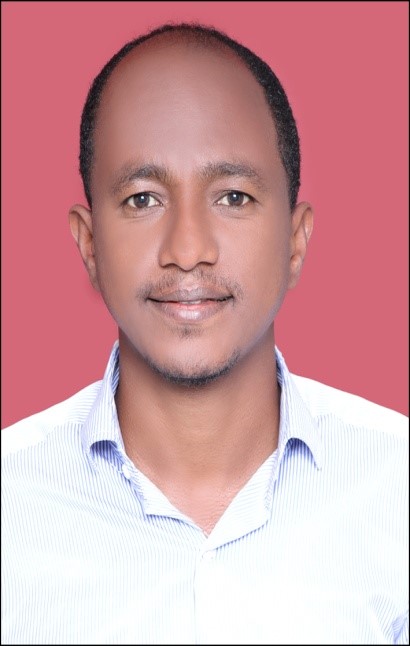 Dagnachew Adefris Gebrehiwot received his PhD from Addis Ababa University, Ethiopia in 2020. He is currently Senior Researcher and Lecturer at Woldia University. His PhD thesis entitled "Postcolonial Ecocritical Reading of Ecological Violence and Resistance in Selected Anglophone African Novels (2000-2010)" discusses environmental politics and post colonialism in African literature with issues of ecocide, environmental justice, ecocriticism, oil literature, ecofeminism, postcolonial ecocriticism, wildlife literature, landscape ecology, and ecological resistance.
Dagnachew also holds three master's degrees: Development Economics (2020) from St. Mary's University, Ethiopia; Project Management (2018) from Addis Ababa University; and English Literature (2011) from Addis Ababa University. His Master of Arts degree in English Literature thesis entitled "Race and Empire in Joseph Conrad's Heart of Darkness and Edward Morgan Forester's A Passage to India: A Deconstructionist Approach", discusses issues of race and empire employing Jacques Derrida's binary oppositions. Dagnachew found out, deconstructing the claims of the racial and imperial nature of the selected works, that both texts destabilize themselves with the absence of determinate meaning.
His second master's thesis entitled "The Impact of Higher Education on Economic Growth in Ethiopia (1976-2018)  and found out that Ethiopian higher learning institutions contribute less to GDP of the country (in terms of research and innovation, quality human capital formation and creating decent employment opportunity) even though there is massive expansions with considerable government expenditure and enrollment.
His third master's thesis entitled "Key Success Factors Influencing the Performance of Road Construction Projects in Ethiopia: A Case of Northern Region" discusses issues of project performance. His research concluded that committed leadership and community participation are found to be key factors for the success of selected projects when there are more than 99% of all project are under failure category in Ethiopia before 2018.
Dagnchew also holds two BA degrees in English Literature in 2009 from Hawassa University, Ethiopia and Sociology in 2018 from St. Mary's University. His first BA degree Project work entitled "The Practices of Public Relations in South FM.100.9" and discussed media, communication and public relationships. His second BA degree project entitled "Crime and Population Characteristics in Gulele Sub city, Addis Ababa, Ethiopia". From the project, Dagnachew found out that male youth aged 18-30 as higher criminals while women and elderly are less crime participants. High crime rate is also related to joblessness and weak law enforcement in the sub city.
Dagnachew's project entitled "Race and Empire in Joseph Conrad's Heart of Darkness and Edward Morgan Forester's A Passage to India: A Deconstructionist Approach" has been selected to be presented at Derrida Today's conference will be held from June 15-22, 2022, Washington DC.
Dagnachew received an award from the English Connect Action Research Program in 2022 through the British Council for Sub-Saharan Africa. He has taught both secondary school students in Addis Ababa and university students in Woldia University for six years. Dagnachew writes for local newspapers and magazines on issues of gender, literature and environment and his research works are under process to be published on journal articles. He is also currently working on a research project Ecohydrology and Citizen Humanities related to Ethiopian Renaissance Dam on the Blue Nile River.
Dagnachew explains how useful eHRAF access has been to his ongoing research:
The HRAF Global Scholars program helps me access information useful for my research areas on the representation of climate change in literature, comparison of African environmental conservation systems and practices with the west and other parts of the world, anthropocene, ecocriticism, ecofeminism, ecopsychology and post-colonial ecocritical study in African literature, digital politics in Ethiopia and the impact of higher education on economic growth in Ethiopia and more related topics that are ahead. As I am an activist for the voiceless (human and non-human) not only in Ethiopia, but also everywhere on our planet, materials that I could access from your online database program will provide me inputs to widen my understanding. Your database open access resources explaining human culture, teaching eHRAF, and introducing cross-cultural research will help me to effectively do my research work without resource limitations.
HRAF is honored to welcome Dagnachew Adefris Gebrehiwot as one of our HRAF Global Scholars for 2022. We wish him continued success with his research.
To support funding priorities such as the HRAF Global Scholarship program and the development of our open access resources (Explaining Human Culture, Teaching eHRAF, and Introducing Cross-Cultural Research), please consider making a tax-deductible donation.