The Human Relations Area Files (HRAF) at Yale University is pleased to announce a new category of membership designed specifically for instructors at non-member institutions.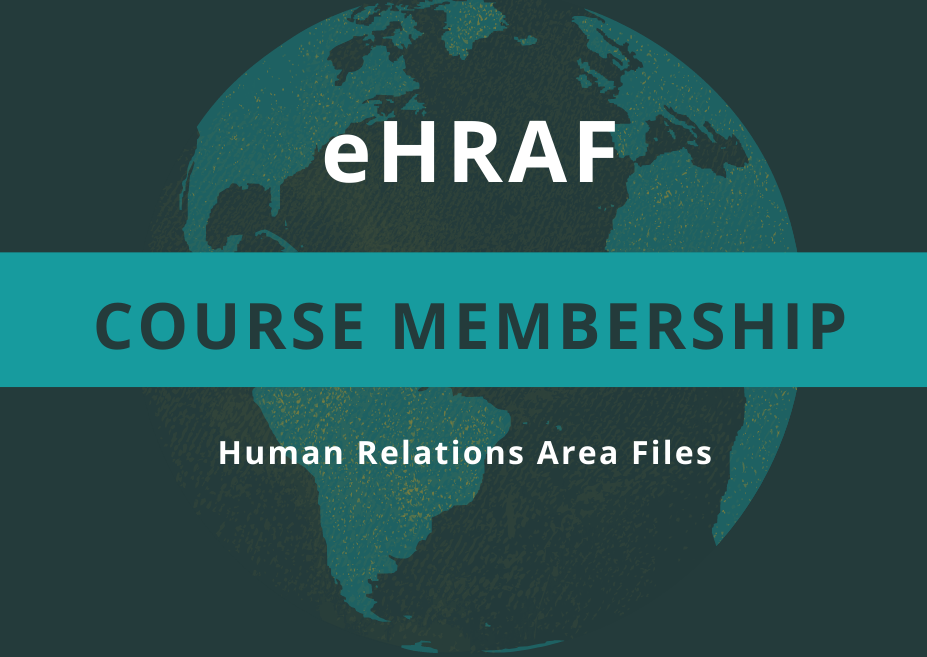 Who is Course Membership for?
This category of membership is available for instructors (not currently affiliated with a member institution) who wish to utilize eHRAF World Cultures for teaching a course. Course Membership is open to instructors affiliated with new or reactivating member institutions with at least a year's gap between institutional membership and the request for course membership.
What does Course Membership include?
Course Membership is available for access to a subset of the eHRAF World Cultures collection that belong to the Probability Sample Files (PSF). The PSF consists of 60 largely nonindustrial societies that meet certain data quality controls, one randomly chosen from each culture area. Some additional culture collections will be made available in this subset to facilitate teaching in conjunction with our eHRAF Workbooks.
How much does Course Membership cost?
Dues for Course Membership are $500 per course title in a given academic term. This affordable new category of membership provides an alternative to HRAF's institution-wide membership options. If an academic library is unable to commit to an annual membership at this time, instructors interested in using eHRAF for an academic term may benefit from our new Course Membership.
Teaching Online?
With all the challenges that accompany teaching online, it becomes increasingly helpful for instructors to have classroom-ready options on hand for sharing and uploading to virtual learning platforms. To complement our online databases, we are currently developing eHRAF workbook activities. Beginning with introductory-level workbook activities for cultural anthropology courses to be released in time for Fall 2020, introductory-level archaeology workbook activities as well as additional area studies and advanced topics will be forthcoming.
About HRAF
As a small, non-profit organization, HRAF services over 500 academic member institutions from around the world. Anthropologists, archaeologists, social scientists, and cross-cultural researchers from these institutions benefit from access to our eHRAF databases. HRAF provides personalized member support and services for faculty and students.
How do I apply for membership?
Please contact Matthew Longcore, Manager of Outreach and Member Services, at matthew.longcore@yale.edu.