On Friday, October 7, the Human Relations Area Files at Yale University hosted a celebration in honor of International Archaeology Day, the yearly event for archaeologists to celebrate the discipline and its contributions to society. Each October, the Archaeological Institute of America and archaeological organizations around the world present archaeological programs and activities for people of all ages and interests. This was HRAF's first Archaeology Day event co-sponsored by the UConn Stamford Anthropology Society. In February of this year, the UConn club visited HRAF in to celebrate Anthropology Day.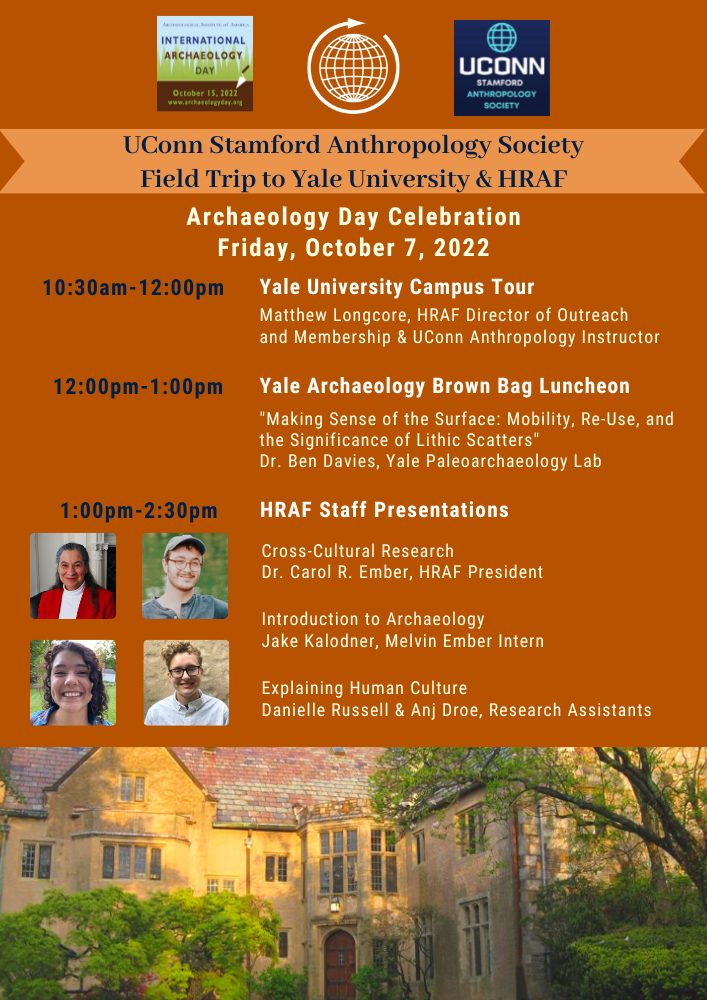 Attendees at the Archaeology Day celebration included the following individuals:
Carol Ember – HRAF President
Matthew Longcore – HRAF Director of Membership and Outreach & UConn Anthropology Instructor
Jake Kalodner – HRAF Melvin Ember Intern and Yale Archaeological Studies graduate
Danielle Russell – HRAF Research Assistant and former Melvin Ember Intern
Anj Droe – HRAF Research Assistant and former Melvin Ember Intern
Lucy Van Der Merwe – UConn Stamford Anthropology Society President
Isabella Walsh – UConn Stamford Anthropology Society Vice President
UConn students visited New Haven for a Yale University campus tour, a talk at the Yale Archaeology Department, and a presentation from HRAF staff members. Matthew Longcore, Director of Membership and Outreach at HRAF, holds a M.A in Archaeological Studies from Yale University. Matthew also teaches anthropology and archaeology courses as an adjunct faculty member at the University of Connecticut. Additionally, he serves as the faculty advisor for the UConn Stamford Anthropology Society, an undergraduate club.
The leaders of the UConn Stamford Anthropology Society are enrolled in the fall 2022 section of ANTH 1000 Peoples and Cultures of the World, an introductory course in cultural anthropology. Lucy Van Der Merwe, president of the Anthropology Society, took ANTH 1500 Great Discoveries in Archaeology with Professor Longcore in the spring 2022 semester. Isabella Walsh, vice president of the Anthropology Society, took ANTH 1006 Introduction to Anthropology over the summer 2022 term. In ANTH 1000, students work on team projects based on the eHRAF Workbooks. Honors students are also working on semester-long projects focused on the topic of vaccine hesitancy across cultures.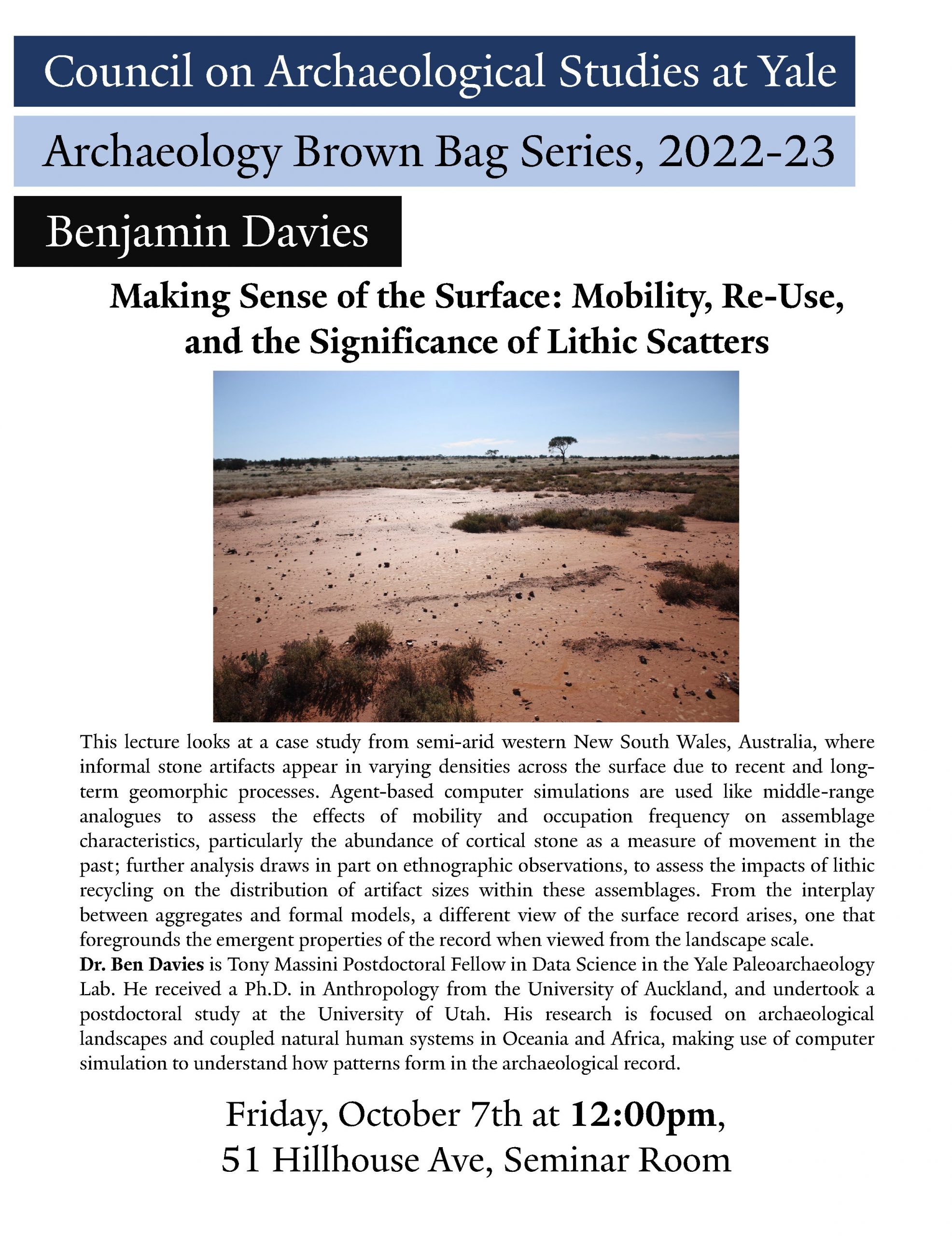 The Archaeology Day field trip began with a Yale University campus tour, followed by a visit to the Yale University Archaeology Department located at 51 Hillhouse Avenue in New Haven, Connecticut. The department hosts a Friday lecture series – known as the Archaeology Brown Bag Luncheons – every two to three weeks during the fall semester. Yale students, faculty, staff, and interested members of the broader Yale community are invited to join the lectures and listen to invited speakers from the area as they discuss their current or recently completed research. Talks are typically about 45 minutes long, with 15 minutes for questions and answers. The guest speaker on October 7th was Dr. Benjamin Davies, a Tony Massini Postdoctoral Fellow in Data Science in the Yale Paleoarchaeology Lab. Ben presented some of his research with a talk entitled, "Making Sense of the Surface: Mobility, Re-Use, and the Significance of Lithic Scatters." More information about the lecture can be found here.
Following the presentation and luncheon, the group visited the HRAF building located at 755 Prospect Street. Dr. Carol Ember talked about the HRAF's role in anthropology, archaeology, and cross-cultural research. Jake Kalodner, a graduate of the archaeological studies program at Yale University and current Melvin Ember intern, delivered a presentation titled Introduction to Archaeology. Research Assistants Danielle Russell and Anj Droe discussed their work with HRAF's open access database, Explaining Human Culture.
Many thanks to the Yale Archaeology Department and the HRAF staff members for their warm hospitality. Thank you also to the UConn students who joined us to celebrate Archaeology Day 2022. We look forward to meeting again to celebrate Anthropology Day in February of 2023.
To keep up to date on the latest news from HRAF, subscribe to our newsletter and follow us on social media (Facebook, Instagram, Twitter, and LinkedIn).