Anthropology Day is a day for anthropologists to celebrate our discipline while sharing it with the world around us. This year, Anthropology Day will take place on February 17, 2022.
On Monday, February 28, the Human Relations Area Files at Yale University will host an event in celebration of Anthropology Day. A group of students from the University of Connecticut have been invited to New Haven for lunch, a museum tour, and a visit to HRAF. Matthew Longcore, HRAF's member services manager, also teaches anthropology and archaeology as a UConn adjunct faculty member and serves as the advisor for the UConn Stamford Anthropology Society. Club leaders from the Anthropology Society have been invited to the event, along with Honors students from the Fall 2021 section of ANTH 1000 Peoples and Cultures of the World.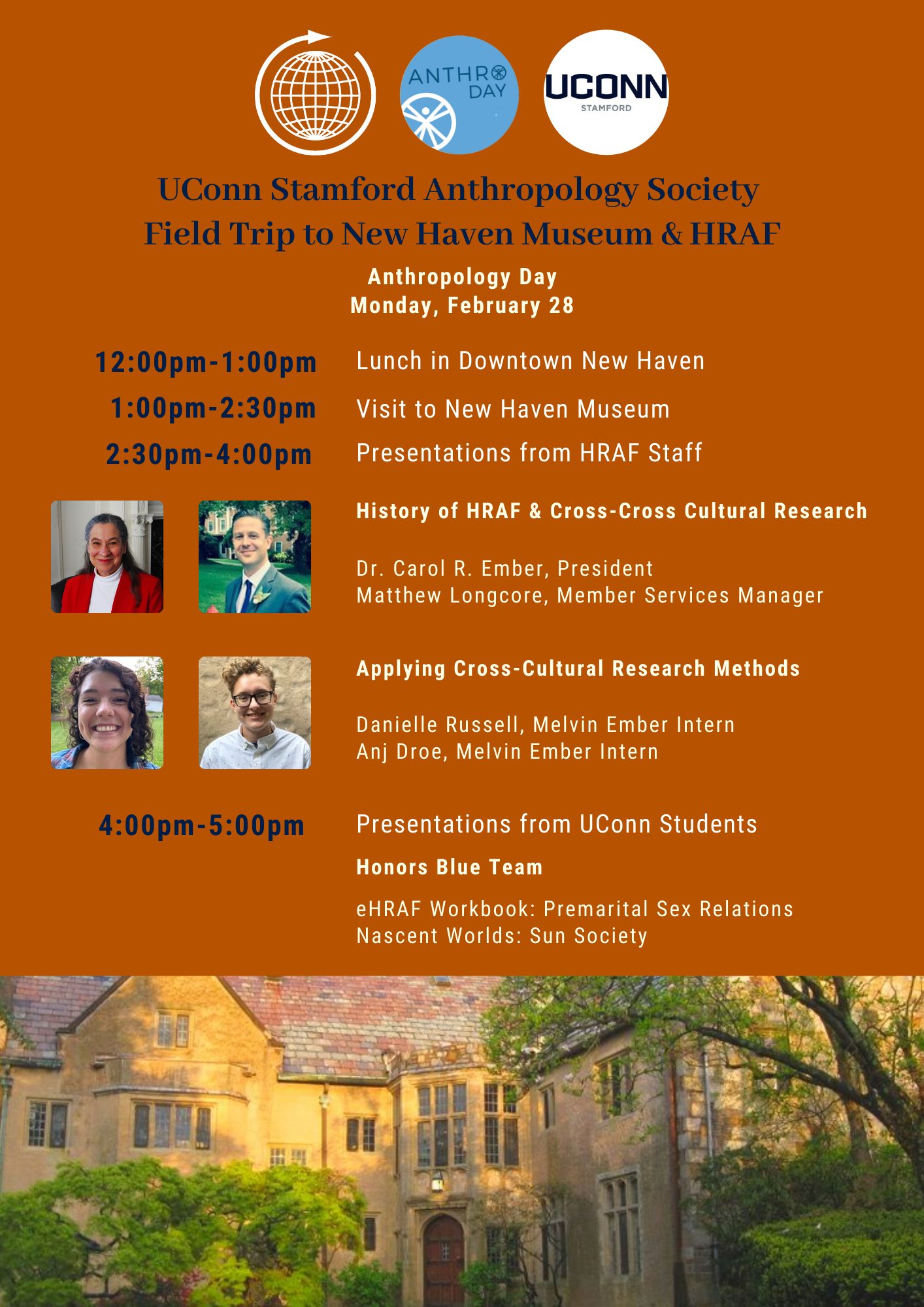 The event will begin at noon with lunch in downtown New Haven, a college town well-known for its legendary pizza. Following lunch, students will be taken on a tour of the New Haven Museum, which features nearly four centuries of local history, from the colony's founding as a puritan village through its growth into a major industrial center and now a thriving multicultural metropolitan area.
After the museum tour, the group will visit the HRAF offices at 755 Prospect Street. President Carol Ember will make a presentation about HRAF's history and cross-cultural research, followed by a presentation titled Applying Cross-Cultural Research Methods from our Melvin Ember Interns, Danielle Russell and Anj Droe. The event will conclude with presentations from the UConn Honors Blue Team from ANTH 1000, who will share their eHRAF Workbook project on premarital sex relations and their Nascent Worlds project on the Sun Society.
Many thanks to the UConn Stamford Anthropology Society and the UConn Honors Blue Team for joining us at HRAF to learn more about anthropology and archaeology. We will be posting updates and photos from Anthropology Day 2022 after the event.
To keep up to date on the latest news from HRAF, subscribe to our newsletter and follow us on social media (Facebook, Instagram, Twitter, and LinkedIn).