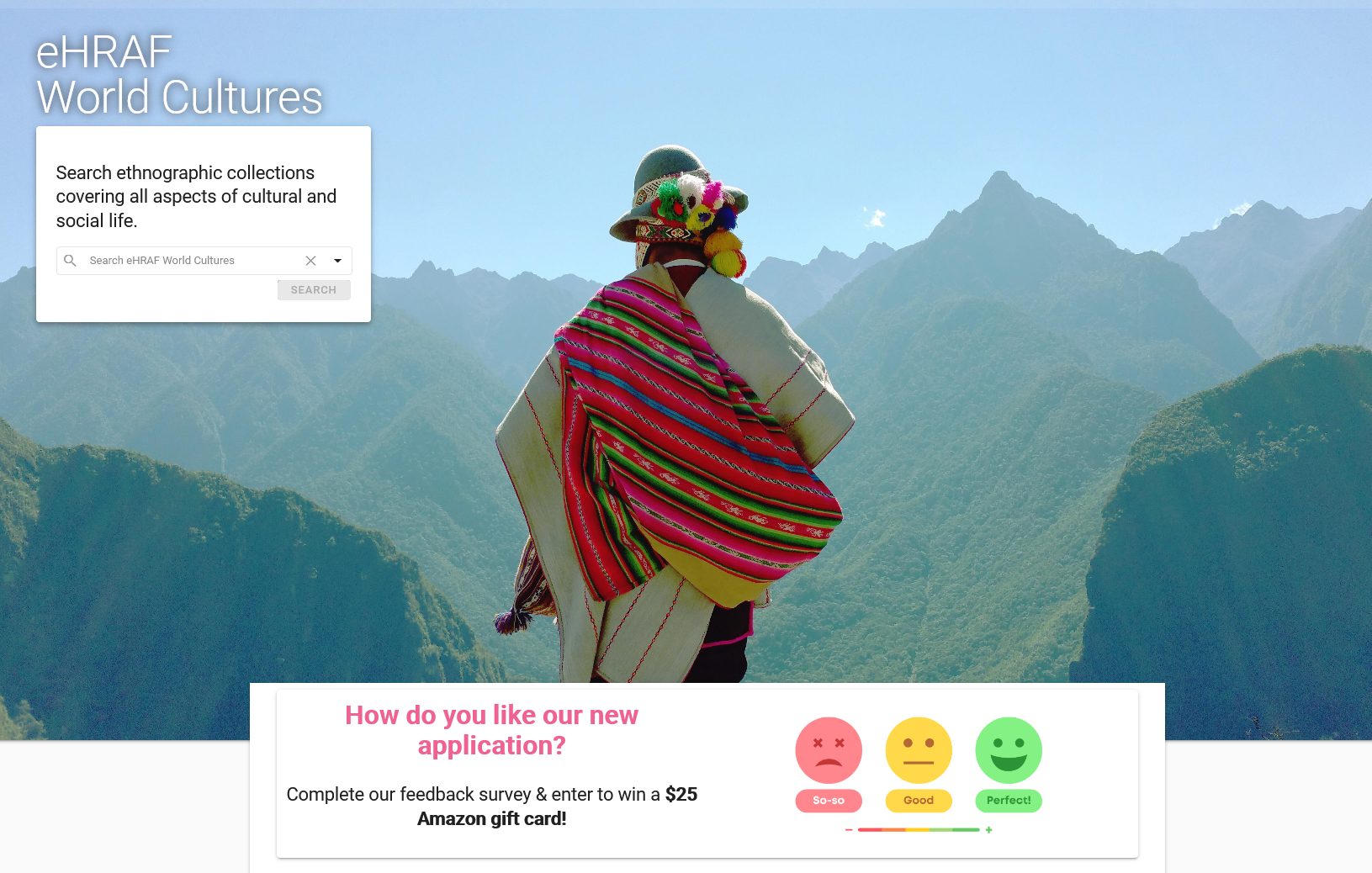 Over the past year, HRAF has encouraged current member institutions to preview our new design of the eHRAF World Cultures database. This new application will replace the current version of eHRAF World Cultures beginning in Fall 2022. Learn more about how to access the new design.
What's new in eHRAF World Cultures?
The new eHRAF World Cultures application offers a fresh look that combines the best aspects of our classic eHRAF interface with a host of added features and enhancements. For example, search filters have been expanded with new options, and users can customize how they would like their search results to be displayed on the page. Search Insights offer additional options for visualizing and drilling down through results sets. An exciting new development for researchers is the eHRAF Notebook, which allows paragraph search results to be saved, organized, annotated, and shared.
There is much more to discover in the new eHRAF. Not sure where to begin? Our Quick Start Guide can help. If your institution is not yet a member of eHRAF, ask your librarian to apply for a free IP trial.
Your Feedback
Once you have had time to explore the new application, we would love to know what you think. User feedback will be used to improve the eHRAF World Cultures database as well as inform forthcoming changes to eHRAF Archaeology. By completing the survey, respondents will be entered into our giveaway for a chance to win one of five $25 Amazon eGift Cards. The giveaway has now closed.
Authenticated eHRAF users from existing member institutions can find a link to the survey on the landing page of the new application as pictured above.
From the current interface, simply follow the link in the "Preview Our New Design" box to access the new application. Start exploring, and then return to the landing page to access the survey.
Why can't I see the survey?
Note that the survey link banner will not appear for unauthenticated users or for users from institutions who are not HRAF members. Check the members list on this page to see if your institution is listed. If you have a HRAF-issued username and password, contact help@hraf.org to request access to the survey.
We look forward to your feedback!