2014 was a busy year for HRAF. In this post, we look back at milestones from the past 12 months as well as take a sneak peek at new things to come in 2015.
Probably the most recognizable change from 2014 was the launch of the new HRAF homepage in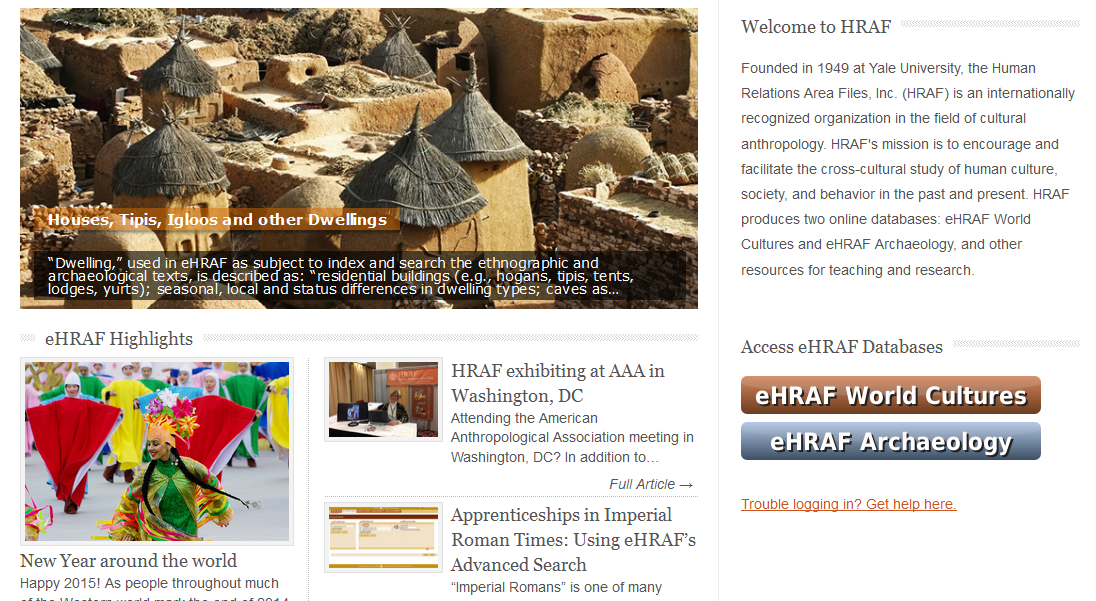 March. The new look has taken more than just a fresh coat of paint, although we love the updated color scheme. We've integrated our blog front and center for news, announcements and topic highlights from the eHRAF databases. Colorful images of cultures and prehistoric traditions brighten the pages and illustrate what's happening at HRAF. In addition, you'll find a lot more connectivity between the HRAF homepage and our social media pages as well as the eHRAF interface so you can follow what's happening at HRAF (the organization) and jump right into eHRAF (the databases) for cross-cultural research from wherever you are.
Here are the major changes, in case you missed them:
New and improved user guides. We are working continually to offer more comprehensive searching tutorials, from basic to advanced.
Resources for everyone. Dedicated portals for librarians, researchers, teachers and students let you find the information you need quickly and easily.
Cross-cultural content. New additions were made to the Explaining Human Culture series, with the Dwellings module following up the extremely popular Hunter-gatherers. Educators: did you know that our Explaining Human Culture modules are also accompanied by classroom-ready teaching exercises and instructions?
Interactivity. 2014 was our year for really getting into social media sharing and 2015 will be more of the same. Follow us on Facebook and Twitter to share anthropology news and cross-cultural content and give us your feedback.
Fascinating new blog posts. Our blog is an HRAF team effort. Recently, we looked at the Ebola outbreak, holidays and rituals cross-culturally, showing how eHRAF databases can lend important insights to almost any subject.
Teaching exercises. The newly formatted Teaching eHRAF section of the website has nearly 40 classroom-ready sample teaching exercises/syllabi, with several new examples added throughout 2014. Not yet using eHRAF exercises in your classes? Get started here.
The new homepage is much more flexible than the old site, meaning it can grow in response to your feedback. We'll be in touch soon to ask what you think, so be sure to browse the new site.
hrafARC (Advanced Research Centers)

We were also excited to announce the launch of  HRAF's new institutes in the USA and Europe to promote comparative ethnographic research applied to complex contemporary problems. HRAF Advanced Research Centers (hrafARC) aim to develop and apply new paradigms for comparative research to address outcomes emerging from human complexity and diversity. hrafARC has an overarching goal of expanding its reach and programs globally and invites other collaborations.
Here at Yale, we inaugurated our Advanced Research Center with an interdisciplinary study to determine how cultures may have adapted to unpredictable natural hazards in the past. Climate-Related Hazards, Disasters and Cultural Transformations is supported by a four-year interdisciplinary behavioral science research grant from the National Science Foundation. The research team includes HRAF President, Carol Ember, cultural anthropologists Teferi Abate Adem and Ian Skoggard at HRAF, Eric C. Jones at the University of Texas-Houston; a cross-cultural psychologist, Michele Gelfand, from the University of Maryland; an archaeologist, Peter N. Peregrine, from Lawrence University; and a climatologist, Benjamin Felzer, from Lehigh University.
Our latest addition, hrafARC [EU] (http://hrafarc.eu/) was established by Michael. D. Fischer, Professor of Anthropological Sciences and Director of the Centre for Social Anthropology and Computing and Alan Bicker, Senior Research Fellow, both of the School of Anthropology and Conservation at the University of Kent, UK. hrafARC [EU] is initially developing research focused on the core themes of (a) food security and the sustainable organisation of agriculture and markets, and (b) the interplay of disjunctive narratives and discourses, with initial applications to reducing ethnic tension in the EU.
Watch this space for more updates on our Advanced Research Centers.
On a more personal note, we welcomed two new interns to the HRAF team this year, Megan Farrer and Amelia Piazza, who are sharing the HRAF internship in Melvin Ember's honor for the fall semester. And in December, we bid a fond farewell to Jo-Ann Teadtke, a member of the HRAF family for 18 years, on her retirement.
We also ended the year with a trip to the AAA Annual Meeting in Washington, DC., which is always a fun and enlightening experience. Chris Cunnar ran the HRAF booth and had a great many interactions with members and non-members throughout the meeting. HRAF also held its executive committee meeting during the AAAs.
What's in store for 2015?
We're constantly working on new updates for the HRAF homepage, many of which will roll out from the beginning of the year, including continued improvements to user guides, FAQs, updated site navigation, and expanded teaching exercises. We're also going to publish more information about HRAF, our history and development so you can get to know us better.
On the technical side, we're excited to update the way citations are integrated throughout eHRAF. Document permalinks are coming as well as the ability to export document information to a citation manager. Researchers, we'll keep you posted with a full announcement soon.
Did you know that five new cultures were added to the eHRAF World Cultures database in 2014? More are on the way this year. You can see a list of updates and forthcoming cultures here.
2015 will also see a strong cross-cultural research focus here at HRAF. Just a few hints at what's to come: finding matches between eHRAF and other cross-cultural samples; expansion of Explaining Human Culture with additional modules; and the inclusion of a database of previous cross-cultural findings for comparative research. We're also going to endeavor to share more updates on publications and ongoing research from HRAF team members.
Finally, watch for the February announcement of a 2015-2016 internship position in Melvin Ember's honor.
Member Feedback
What would you like to see from HRAF in 2015? Whether you are a faculty member, librarian, researcher or student, we'd like your feedback. Do you have suggestions for how we can improve our user guides and support services? Want to collaborate with us or add your syllabi to our growing collection of teaching exercises? Have something to say about the new homepage design or the eHRAF search interface? You can even share with us your recently published work sourced from the eHRAF so we can let other members know about it. As a member of HRAF, you are a part of our organization and your contributions matter. Feel free to post on our Facebook page or drop us an email at hraf@yale.edu.