HRAF staff members attended the 2022 American Anthropological Association Annual Meeting from November 9-13 in Seattle, Washington. The theme of this year's meeting, "Unsettling Landscapes", encouraged anthropological discussion of the past, present, and future.
Exhibit Booth
Visitors to HRAF booth in the exhibit hall learned about the eHRAF World Cultures and eHRAF Archaeology databases, and the eHRAF Workbooks for teaching introductory courses. President Carol Ember and Danielle Russell, a research assistant, were the primary staff members at the exhibit booth, assisted by Ian Skoggard, a research anthropologist. We would like to thank everyone who stopped by our booth. Attendees were given complimentary HRAF tote bags and HRAF bookmarks with login credentials for free trials of the eHRAF databases. If you attended the AAA meeting in Seattle but did not have the opportunity to receive a bookmark for a free trial, please contact Matthew Longcore, Director of Membership and Outreach, at matthew.longcore@yale.edu.
Carol R. Ember Book Prize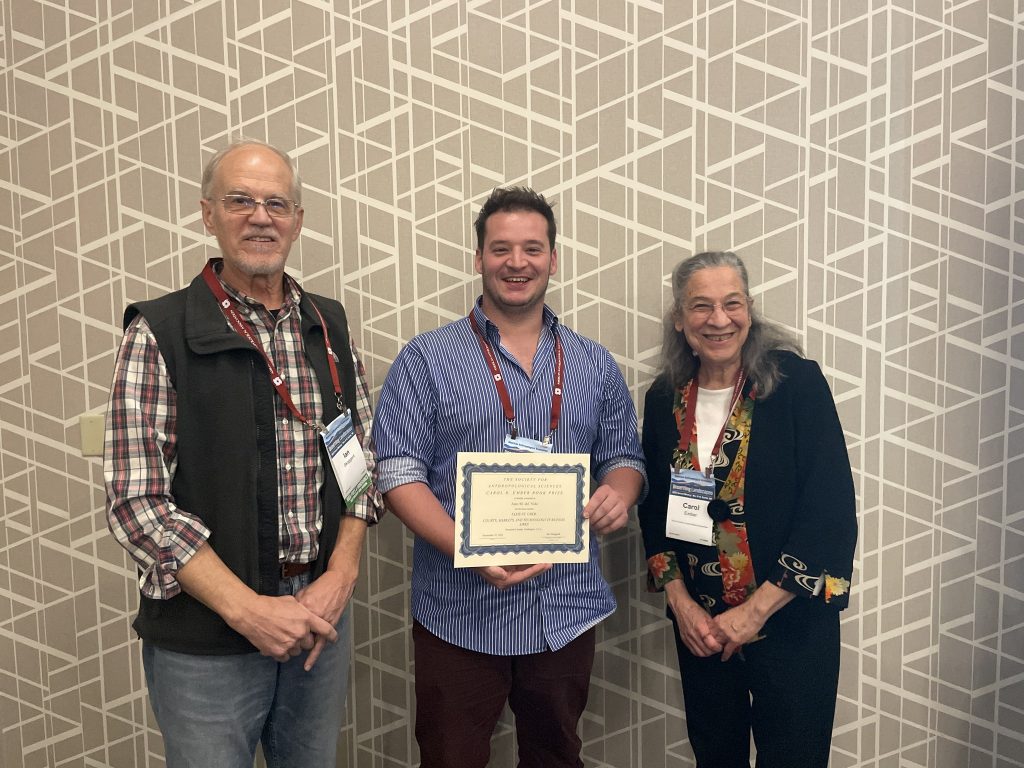 The Society for Anthropological Sciences presented the annual Carol R. Ember Book Prize to Dr. Juan M. del Nido for his book Taxies vs. Uber: Courts, Markets and Technology in Buenos Aires. As described by Stanford University Press, this publication is the "first book-length study of the lead-up to and immediate aftermath of the arrival of a major platform economy to a metropolitan capital considers how the clash between Uber and the traditional taxi industry played out in courtrooms, in the press, and on the street." Dr. del Nido is Philomathia Post-Doctoral Research Associate at the Max Planck Cambridge Centre for Ethics, Economy, and Social Change at the University of Cambridge.
Panel Discussion
A panel organized by Ian Skoggard featured three presentations by HRAF staff. The panel titled "Investigating Settled And Unsettled Worlds With Scientific Methods" that was held on Friday, November 11th.  The panel featured the following papers:
CULTURAL CONSENSUS ANALYSIS APPLIED TO CURRENT EVENTS: ONTOLOGY AND METHOD
Luke J. Matthews (RAND Corporation) and Omair Khan (Pardee RAND Graduate School)
ETHNOGRAPHIC DATA SCIENCE: NEW APPROACHES TO COMPARATIVE CROSS-CULTURAL RESEARCH
Sridhar Ravula (Human Relations Area Files), Francine Barone (Human Relations Area Files), and Michael Fischer (University of Kent)
THE EVOLUTIONARY IMPLICATIONS OF KINSHIP TIGHTNESS
Carol R. Ember (Human Relations Area Files), Anj Droe (Human Relations Area Files), and Danielle Russell (Human Relations Area Files)
LEADERSHIP AND WORK IN THE ACCUMULATION OF SOCIAL CAPITAL IN RESPONSE TO NATURAL HAZARDS
Ian Skoggard (Human Relations Area Files), Rachele Pierro (Collective for Refugee & Immigrant Women's Wellbeing), Carol R. Ember (Human Relations Area Files), and Emily Pitek (George Washington University)
iKLEWS Presentation
On Wednesday, November 9th, from 4:30 PM to 5:15 PM, Michael Fischer and Sridhar Ravula presented a paper titled "Powerful Knowledge: From Cultural Processes to Cultural Dynamics" in the panel "Mixed Methods Approaches To Culture, Environment, And Family". The paper featured updates from HRAF's iKLEWS Project, an NSF-funded project to create enhanced data science services.
HRAF looks forward to attending the AAA/CASCA2023 meeting next year in Toronto, Canada.