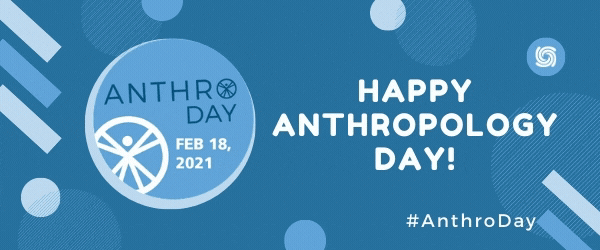 We are pleased to report another successful Anthropology Day at HRAF. Staff members from the Human Relations Area Files at Yale University and anthropology students from the University of Connecticut met on Friday, February 19 for a full-day event via Zoom in celebration of Anthropology Day 2021. The event was well-attended with 45 participants including members of the UConn Stamford Anthropology Society and UConn Honors students from the Fall 2020 section of ANTH 1000 Peoples and Cultures of the World. ANTH 1000 is an introductory course in cultural anthropology taught by Matthew Longcore, HRAF's member services manager. Matthew teaches anthropology and archaeology courses at UConn Stamford and is the club advisor.
HRAF was especially pleased to be able to host a successful remote event this year. The morning activities consisted of presentations by our President, Dr. Carol Ember, about HRAF's history and cross-cultural research, followed by presentations from our two Melvin Ember Interns, Daniel McCloskey (UConn '20) and Benjamin Gonzalez (Trinity University '20).
Dr. Ember opened the day with a presentation which provided an overview to HRAF and a history of the organization, followed by a cross-cultural research presentation titled "Do natural hazards and other ecological threats predict the strength of cultural norms?". Daniel presented on "Quantitative and Qualitative Views on Gender". Benjamin presented on "Quantitative and Qualitative Approaches to Health in Anthropology".
In the afternoon, an informal social hour gave HRAF staff and UConn students an opportunity to talk about the Melvin Ember Internship program, theoretical and applied anthropology, and post-graduate opportunities for students interested in anthropological careers. Our interns discussed their plans to pursue PhDs in their respective fields of interest.
For the final part of the day, students enrolled in the Spring 2021 section of ANTH 1000 were joined by Honors students from the Fall 2020 section who made presentations about their Nascent Worlds projects. HRAF would like to thank the UConn Honors students who shared their creative and inspiring Nascent Worlds presentations:
Aqua Team      John Mathew and Cullen Murphy
Grey Team      Tahera Hoque and Walter Luciano
Pink Team       Dee Webster
Purple Team   Nour Al Zouabi and Ryan Catlin
The team presentations demonstrated extraordinary creativity and imagination on the part of the students, as well as depth and breath of understanding of anthropological concepts related to culture. The detailed descriptions of each culture painted a holistic picture of their lifeways, histories, mythologies, and cultural practices. Here are some excerpts from the presentations:
Aqua Team

"Magnus ventured into the mountains. There, he tamed the first dragon, Draco. When Magnus brought the dragon back to his town, it was accidentally discovered that dragon blood cured Morbus (a deadly disease). Magnus took the discovery to other towns and he was soon declared king by the people. During the 50-year period of King Magnus's reign, more dragons were tamed and Morbus was completely eradicated."
Grey Team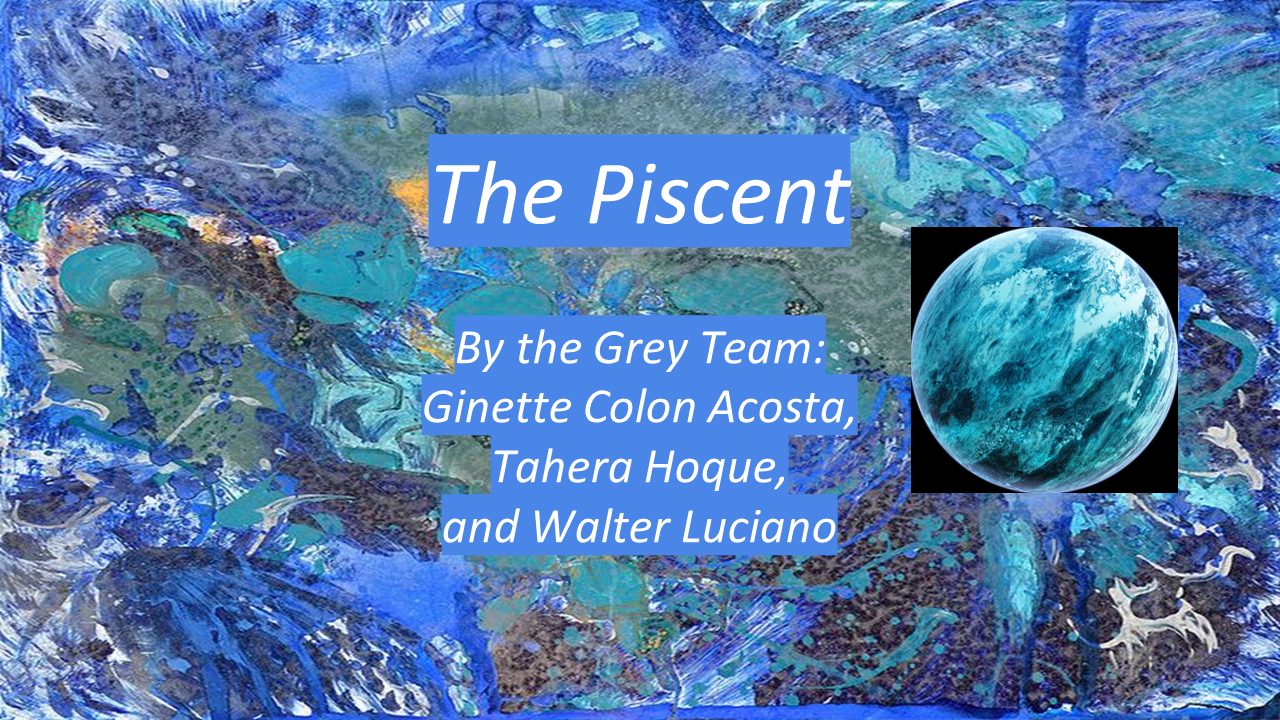 "Piscent are humanoid in appearance, with a head, torso, two arms and two legs. However, they have many similar qualities to fish and other marine creatures on Earth. They have gills to breathe underwater, located on their necks, as well as a human-like respiratory system. They have webbed hands and feet, and they have fins located on their arms and legs to improve their swimming. They all have smooth heads with no hair, and have eyes similar to fish."
Pink Team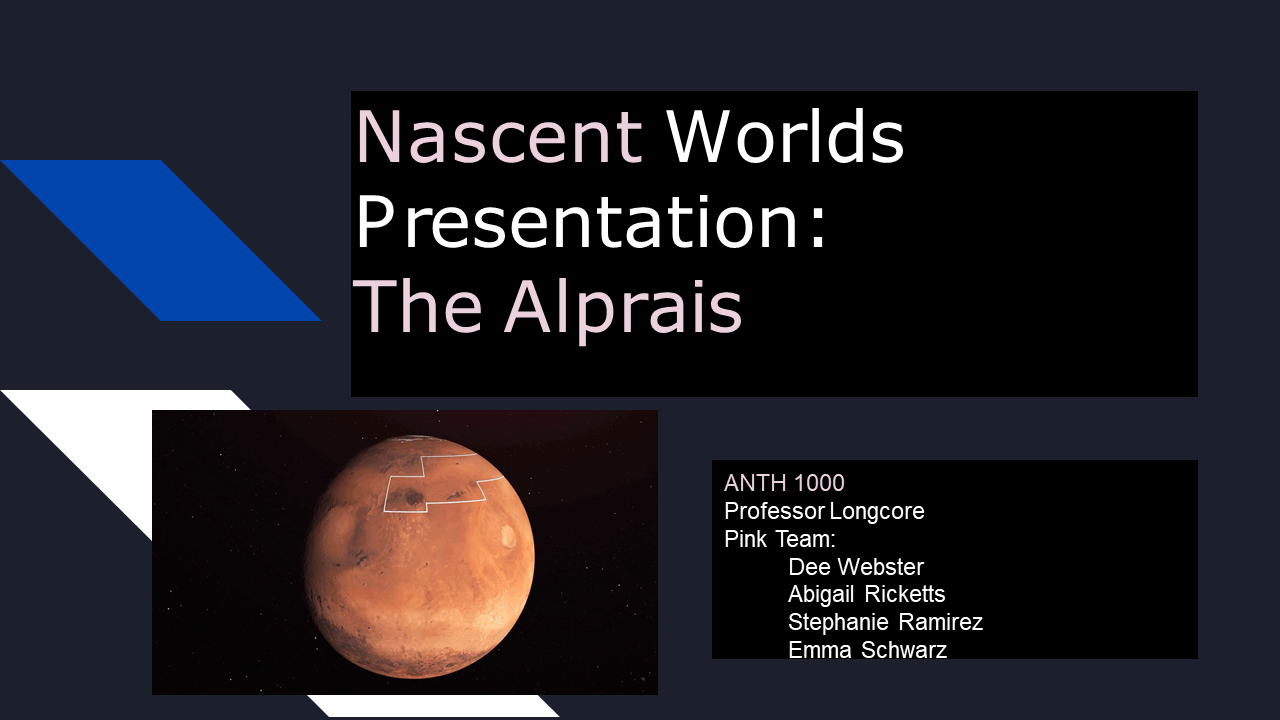 "The Alprais do not value individualism as a part of their identity. This is because they are all equal except for the Overseer and their society has no social classes. The Alprais only believe in two genders, male and female. They do not wear clothes as their bodies are all the same. Since everyone is equal, there are no beauty standards. They do not reproduce out of love, they reproduce out of necessity."
Purple Team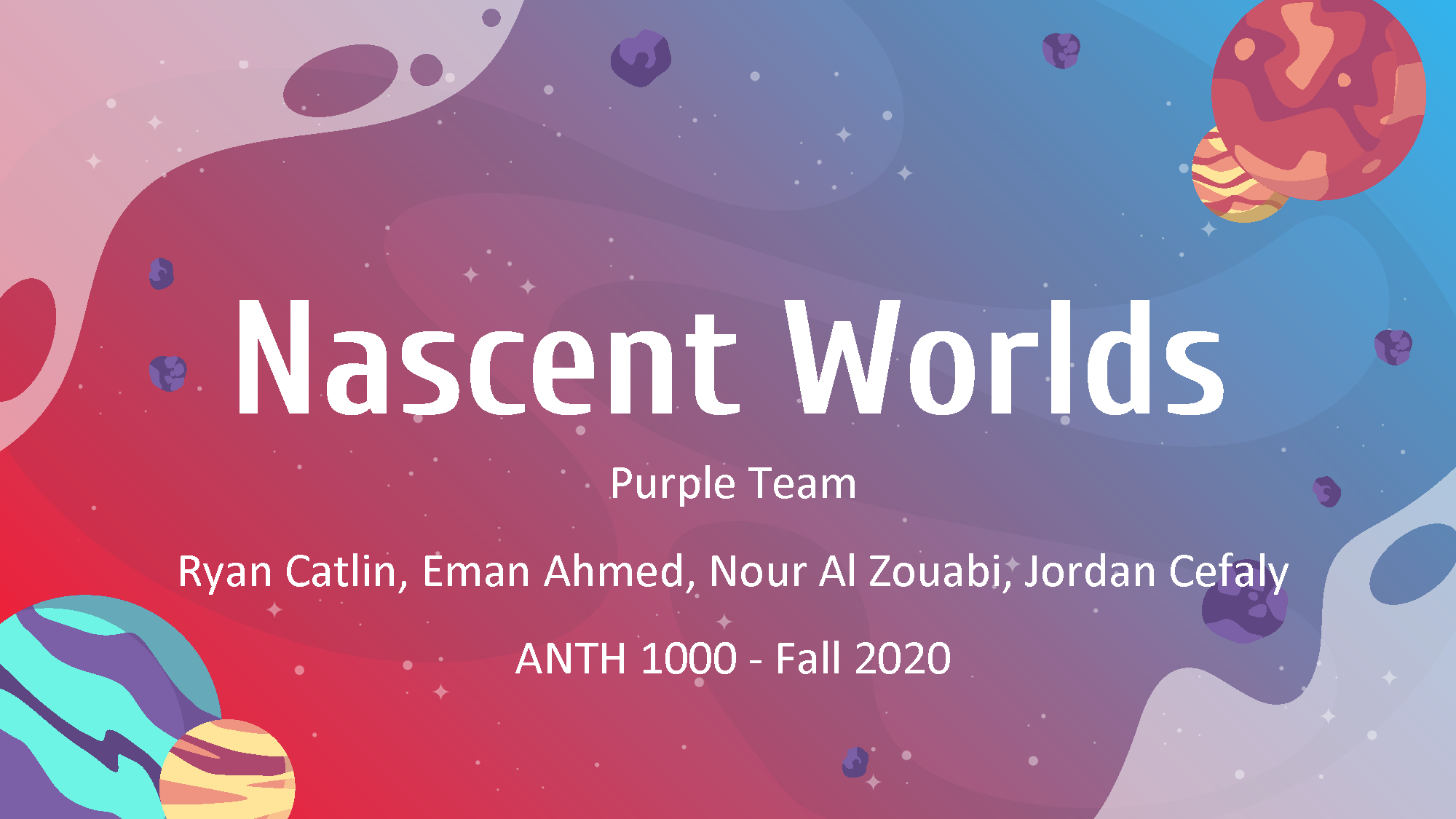 "The Elonians started as a colony of 200 people on Mars in the year 2040. The colony was established by Elon Musk, hence the name of the colony: Elonia. It consisted of people from all different backgrounds to ensure that cultural diversity would be continued. Musk's plan to colonize Mars was a means of saving the human race, should anything happen to Earth. They had built a sustainable dome, primarily with remote robots, before the colony finally arrived."
HRAF would like to extend our deepest gratitude to all who attended and contributed to the Anthropology Day 2021 celebration. We would also like to thank the dedicated officers of the UConn Stamford Anthropology Society:
Victoria Biafore, President
Cullen Murphy, Vice President
Nour Al Zouabi, Treasurer
John Mathew, Secretary
Ijhoma Lizcano, Marketing
Additionally, thank you to two special guests who joined us for Anthro Day: Kaitlin Heenehan, Honors Program Assistant Director for UConn Stamford and Haley Brown, graduate student in the Archaeology program at Yale University.
For more information about teaching with eHRAF, please visit Teaching eHRAF. If you are preparing to teach with the eHRAF databases, you may wish to schedule a webinar or request a trial.