For our annual recap and preview, this article will summarize HRAF's activities from the previous year as well as describe what you can expect to see from us over the next 12 months.
eHRAF Updates

We celebrated two big milestones in 2022. First, we congratulated our Engineering team on the exciting public launch of the latest version of the eHRAF World Cultures database. Many great enhancements were added, including speed improvements, new layout options, Search Insights, and customizable Notebook accounts for keeping track of ethnographic data. Of course, all of your favorite features, such as Culture Summaries, Advanced Search, paragraph-level subject indexing, permalinks, and citation tools, are still there. We appreciate all of the feedback that we have received from our members throughout the launch of the new eHRAF World Cultures in the Fall 2022 semester, and welcome you to get in touch should you have any questions or comments.
2022 also marked 25 years since eHRAF World Cultures first went online! The original online version of the eHRAF Collection of Ethnography was first made available in 1997. It became one of the earliest full-text electronic databases to exist on the web. At the time, most e-databases were comprised of bibliographic records only. In 2008, HRAF began hosting its own application re-titled eHRAF World Cultures. eHRAF is still designed and maintained in-house today by a small team of software engineers at HRAF at Yale University. A quarter century after it first went online, the database now contains over 360 culture collections and nearly 1 million pages of ethnographic data, all still hand-indexed by HRAF specialists and anthropologists.
Thank you for joining us on this journey. Next up for 2023 is the development of the updated version of our eHRAF Archaeology database. If you would like to explore eHRAF World Cultures and/or eHRAF Archaeology, but your academic institution is not yet a member, have your librarian contact us to apply for an IP trial.
Culture & Tradition Updates

A popular annual request from our members is for more information about how we are growing our culture and tradition collections in the eHRAF databases. Click here for a summary of what cultures and traditions we added or updated in 2022, as well as what we will be analyzing for eHRAF World Cultures or eHRAF Archaeology throughout 2023.
Staff Updates
Marilyn Hentz served as our Comptroller for 20 years before her retirement in June. She played a crucial role as our liaison to Yale University for personnel matters, and our main contact for accounts receivable and payable. During her time of service, Marilyn planned and organized numerous and memorable events, including annual HRAF Board meetings. For her well-deserved retirement celebration, Marilyn was able to enjoy a gathering planned by her colleagues and hosted by HRAF President Carol Ember at her home. Marilyn was presented with a framed certification of appreciation from the HRAF Board honoring her years of service.
We also bid farewell to Furkan Teke, Digital Services Production & Development Specialist since 2019, who has embarked on a new engineering position at Stanford University.
At the start of the 2022-23 academic year, HRAF welcomed two new Research Associates – Cynthiann Heckelsmiller and Dr. Samantha King. In addition, Former Melvin Ember interns Anj Droe and Danielle Russell were promoted to full-time HRAF Research Assistants following their internships. All four are currently working on a grant-supported project on responses to climate hazards.
In the summer, we welcomed Amanda Westcott as our new Office Manager, taking over the duties of Marilyn Hentz. Two HRAF staff members were promoted to Director positions: Dr. Francine Barone became Director of Academic Development and Operations, and Matthew Longcore is now Director of Membership and Outreach. At the start of the fall semester, we were joined by Melvin Ember intern Jake Kalodner, a Yale Anthropology graduate who will work with us for the 2022-2023 academic year.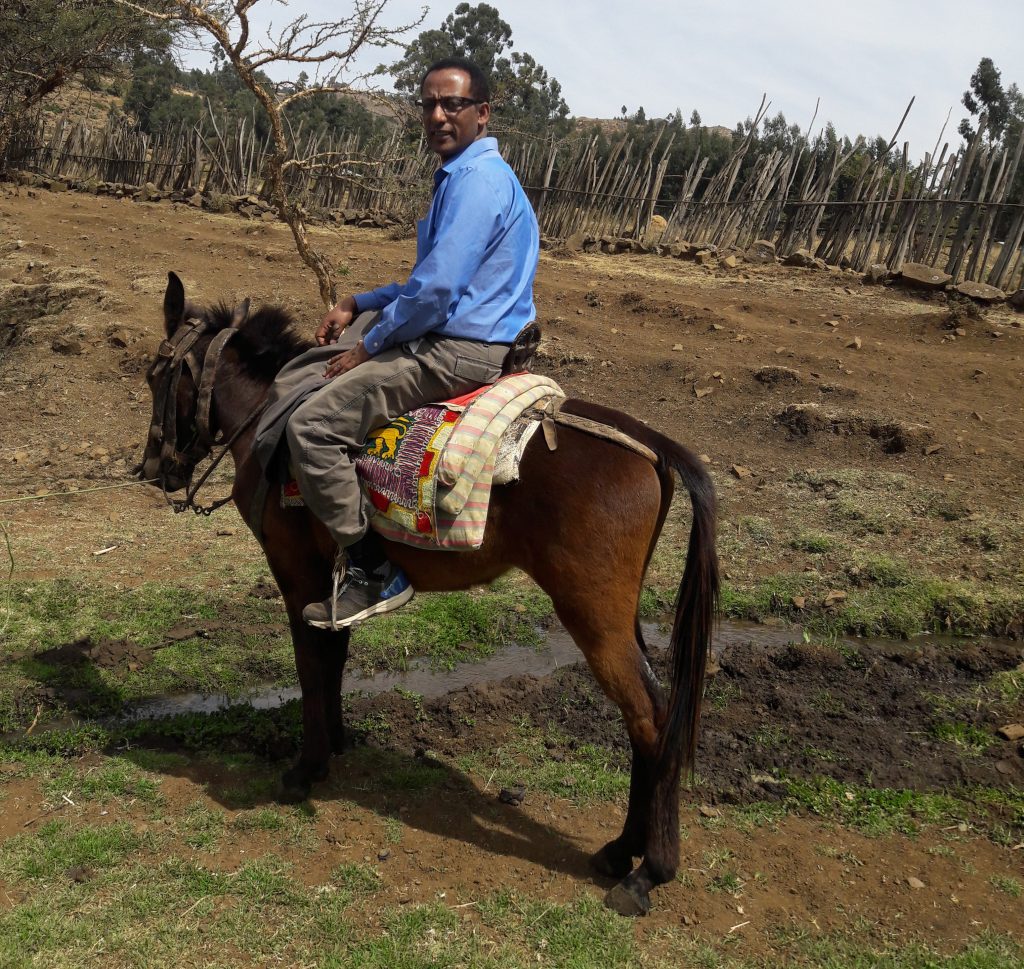 More exciting news is that HRAF Research Anthropologist Dr. Teferi Abate Adem finally received his deferred 2020-2021 Fulbright U.S. Scholar Program award in anthropology from the U.S. Department of State and the Fulbright Foreign Scholarship Board. Teferi is among over 800 U.S. citizens who will conduct research and/or teach abroad for the 2022-2023 academic year through the Fulbright U.S. Scholar Program. He is currently in Ethiopia conducting ethnographic research on the social dimensions of how farmers in two ecologically contrasting rural communities are responding to vagaries of climate change-aggravated irregularities in the onset, duration and intensity of rainfall during local growing wet seasons.
Collaborations and Partnerships
In January 2022, we announced that a new classification system based on our original Outline of Cultural Materials (OCM) and Outline of World Cultures (OWC) was being developed as an anthropological taxonomy through a partnership with the American Anthropological Association (AAA). This system provides a consistent way of classifying the terms for specialty research topics and cultural areas and will soon be available to help locate relevant publications and people across AAA platforms. AAA worked with experts in thesauri, indices, and taxonomies to compare the OCM and OWC with keywords used in American Anthropologist to update existing terms and add new ones in order to implement it as a search tool.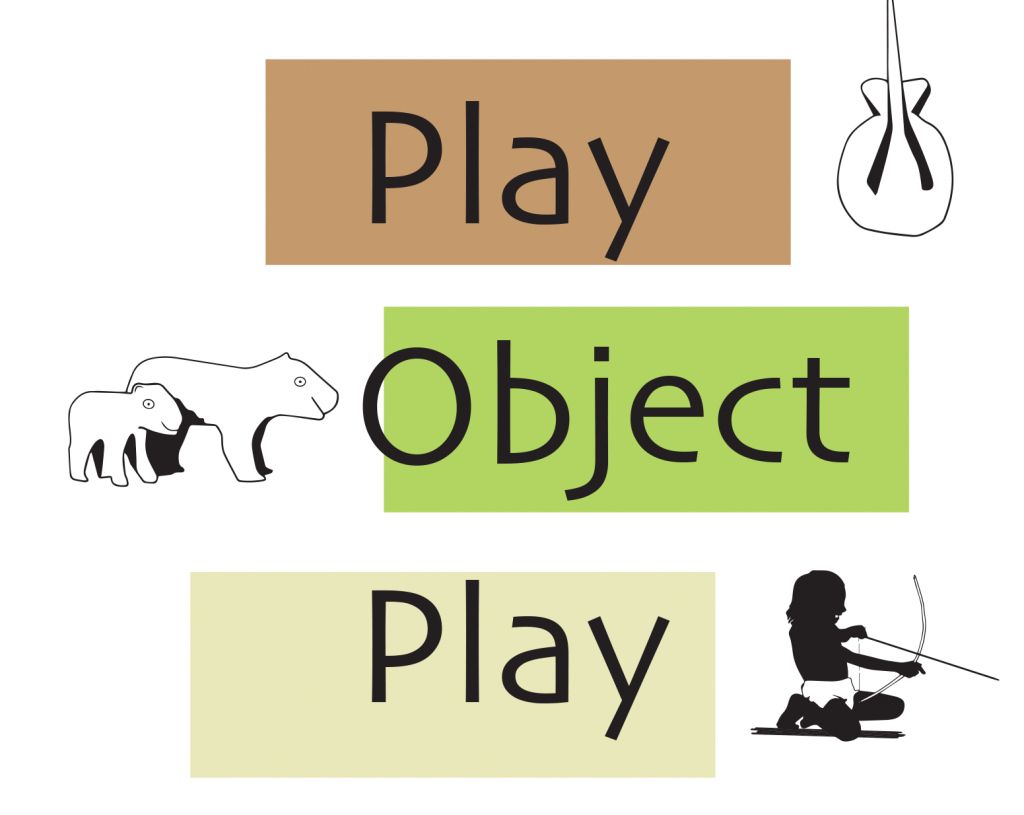 eHRAF data has been included in the newly launched cross-cultural database of children's play objects, Play|Object|Play. Compiled by researchers Felix Riede (PI), Sheina Lew-Levy, Marc Malmdorf Andersen and Ulrik Høj Johnsen, the project seeks to develop an integrative child-centered model of material culture change, drawing on emerging psychological and anthropological understandings of the cognitive and cultural processes by which children develop their tool-making skill. Play|Object|Play contains coded data on play objects from around the world with links to source data in eHRAF World Cultures. It is both open access and crowd-sourced and aims to give ethnographic and ethno-historical context to children's play objects. Contributions that reflect the diversity of childrens' lived experiences are welcome.
HRAF Research & Publications

Given increased severity, frequency and even unpredictability of both slow- and fast-onset climate-related hazards around the world, HRAF has been awarded a 3-year grant to support worldwide cross-cultural research to understand how groups in the recent past have responded to shocks and whether their social and cultural responses have led to enhanced resilience. This research is exploring whether the type and qualities of climate hazards or shocks have influenced societal responses. The principal investigators of "Response to Shocks and Hazards Associated with Climate" are Eric Jones (PI), Carol Ember, Sergey Gavrilets and Michele Gelfand.
The HRAF research team produced a publication in 2022 based on data from a previous NSF-supported project investigating how natural hazards may have transformed culture. Local Knowledge and Practice in Disaster Relief: A Worldwide Cross-Cultural Comparison of Coping Mechanisms reviews and documents the rich diversity of plans and strategies that local people have used to cope with hazards, particularly droughts and floods. As the authors Rachele Pierro, Carol Ember, Emily Pitek, and Ian Skoggard point out, local, indigenous, or traditional knowledge is often undervalued, but people living in difficult environments have had centuries or sometimes millennia to figure out how to minimize their risks. Using data from 90 societies, the researchers found that most coping mechanisms could be classified into four major categories– technological, religious, subsistence and economic.
A team of researchers including Anna Wood, Kathryn Kirby and Carol Ember published a paper in 2022 introducing The Global Jukebox as a resource for comparative and cross-cultural study of the performing arts and culture. The Global Jukebox adds an extensive and detailed global database of the arts that enlarges our understanding of human cultural diversity. Initially prototyped by Alan Lomax in the 1980s, its core is the Cantometrics dataset, encompassing standardized codings on 37 aspects of musical style for 5,776 traditional songs from 1,026 societies. The data are cross-indexed with the Database of Peoples, Languages, and Cultures (D-PLACE) to allow researchers to test hypotheses about worldwide coevolution of aesthetic patterns and traditions.
Summer Institutes

The second HRAF Summer Institute for Cross-Cultural Anthropological Research was held in July 2022. The NSF-funded HRAF Summer Institutes train faculty, researchers, and graduate students in the theory and methods for conducting regional and worldwide comparative research. An additional aim is to prepare materials that can be incorporated into methods courses and online platforms to assist others wishing to learn about cross-cultural research. It was an intense and exciting three weeks for the instructors and the 12 participants that included a hefty mix of instruction, exercises, and designing a cross-cultural mini-project. Learn more about the participants, their institutions, and a brief summary of their projects in our recap.
The third three-week Summer Institute will be held July 17 through August 4, 2023 in New Haven, Connecticut, USA. The program will include lectures, discussion, hands-on exercises and each participant will design and execute a pilot project during their time at an institute. The primary instructors will be Carol R. Ember (Human Relations Area Files at Yale University, USA), Fiona Jordan (University of Bristol, UK) and Séan Roberts (Cardiff University, UK). Tentatively, additional lectures will be delivered by Damian Blasi, Alexandra Brewis Slade, Joshua Conrad Jackson, Jeremy Koster, Eleanor Power, and Amber Wutich. Interested researchers may apply here to join the 2023 Summer Institute. Please share widely.
Conferences & Events
2022 was a busy year for HRAF at both in-person and virtual events.
On January 19th, HRAF hosted a virtual workshop on Teaching with the eHRAF Workbooks via the American Anthropological Association. During the workshop, participants learned how to navigate the eHRAF databases as well as how to utilize the eHRAF Workbooks for teaching, including remote and hybrid classes. The workshop was well attended with nearly 70 registrants, most of whom were anthropology instructors new to eHRAF.
Next, the 87th Annual Meeting of the Society for American Archaeology (SAA) was held in Chicago, Illinois from March 30 to April 3, 2022. HRAF was pleased to be at the Exhibit Hall to showcase our eHRAF Archaeology database and related teaching materials, as well as our other databases and open access resources for comparative archaeological research.
Also in March, the 82nd Annual Meeting of the Society for Applied Anthropology (SfAA) was held in Salt Lake City, Utah. The theme of this year's event was "The Revolutionary Potential of the Social Sciences: Transforming Possibilities." HRAF research anthropologist and member of the executive board for the Society for Anthropological Sciences (SAS), Dr. Ian Skoggard, presented a paper on the work of community organizing that goes into accumulating social capital. The SAS also conducted a mentoring and ethnographic field and data analysis methods workshop called Nuts and Bolts. The workshop provided an opportunity for undergraduate and graduate students to ask seasoned anthropologists about next steps in their research and careers.
HRAF President Carol Ember attended the 50th anniversary annual meeting of the Society for Cross-Cultural Research (SCCR), which took place from February 16-19 in San Diego, California. SCCR is a multi-disciplinary organization whose members share a common devotion to conducting cross-cultural research. Dr. Ember participated in the panel discussion "Past Presidents' Reflections on SCCR", which was co-chaired by Judith Gibbons of Saint Louis University and Deborah Best of Wake Forest University. Dr. Ember also had the honor of being presented with the SCCR Lifetime Achievement Award.
HRAF hosted another virtual workshop showcasing eHRAF resources for cross-cultural and cross-archaeological forager research at the CHAGS XIII Conference in Dublin, Ireland from June 27 to July 1. The theme of the conference was "Living Well Together", which emphasizes how hunter-gatherers seek to live well with all of the other forms of being with which they share and shape their worlds.
The Royal Anthropological Institute 2022 Conference also took place virtually in June 2022 with the theme "Anthropology, AI and the Future of Human Society." As producers of the world's largest anthropological databank, HRAF was pleased to attend this virtual conference alongside like-minded enthusiasts of anthropology, computing, and technological futures. Our virtual exhibit booth enabled attendees to learn more about the eHRAF databases and the varied uses of our cross-cultural collections for both ethnographic and data science purposes. They were also able to preview our new database design.
Dr. Francine Barone, Prof. Michael Fischer and Dr. Sridhar Ravula presented Ethnographic Data Science: New Approaches to Comparative Research in the panel "Programming anthropology: coding and culture in the age of AI". The paper explored how machine learning and natural language processing are being used to enhance eHRAF World Cultures as part of HRAF's NSF-funded iKLEWS project. Dr. Francine Barone presented her paper "Close without saving? How local traditions may withstand a digital demise", in the panel The concept of Tradition: its survival, transformation and virtual world refashioning. Taking an ethnographic approach to media and change, she argued that not all social media usage is destined to eradicate local culture, particularly when evolving media practices are viewed in their existing cultural contexts, in specific times and places.
Lastly, HRAF exhibited at the 2022 AAA Annual Meeting from November 9-13 in Seattle, Washington. HRAF staff members also made four presentations during the conference. Three of the presentations were in a panel organized by Ian Skoggard titled "Investigating Settled and Unsettled Worlds with Scientific Methods". The presenters were Ian Skoggard, Carol Ember, and Sridhar Ravula. See the post for more about the papers and the co-authors. Mike Fischer and Sri Ravula presented a paper about HRAF's iKLEWS Project in the panel "Mixed Methods Approaches to Culture, Environment, and Family".
We look forward to upcoming events this Spring including the Association of College and Research Libraries (ACRL) conference in Pittsburgh, Pennsylvania from March 15-18, 2023 and the Society for American Archaeology (SAA) annual meeting in Portland Oregon from March 29-April 2, 2023. If you are attending, please stop by our booth in the exhibit hall.
Teaching eHRAF & Explaining Human Culture

The popularity of our Teaching eHRAF materials continues to grow. There was an 80% increase in views last year across all of our teaching exercises. In addition, the eHRAF Workbooks, Introduction to Cultural Anthropology and Introduction to Archaeology – first launched in 2020 and 2021 respectively – saw a combined 456% increase in activity in 2022. Combined, HRAF's open access teaching materials account for over a third of the annual visitor traffic on our homepage.
The most popular teaching exercise in 2022 was Relative and Absolute Dating Methods in Archaeology, while the most popular eHRAF Workbooks were Rites of Passage and Race & Class. Other top exercises and workbooks include: An Introduction to Fieldwork and Ethnography; Language, Culture & Society; Reciprocity & Exchange: The Kula Ring; and Ethnology and Ethnography in Anthropology.
In June, a new topical summary on Residence and Kinship was added to Explaining Human Culture (EHC), our open access database that summarizes the results of over 1,100 cross-cultural studies. This EHC summary is co-authored by HRAF President Carol R. Ember and Research Assistants Anj Droe and Danielle Russell. Throughout the anthropological record, kinship principles have formed the basis of how human societies were organized. However, there is considerable cross-cultural variation in the size and composition of these larger kin groups. The summary considers explanations and predictors of variation in marital residence patterns, the form and composition of larger kin groups, and the terms used for kin.
EHC summaries on Aging and Death and Dying (Funerals and Mourning) are planned for 2023.
Featured Coursework
We always enjoy learning about how eHRAF is used in classrooms around the world. For example, the graduate program in Hunter-Gatherer Archaeology at University College Dublin, coordinated by Professor Graeme Warren, is designed for students interested in the diversity of forager societies. During their studies, program participants learn how to search the eHRAF databases to locate examples of hunter-gatherer diversity and to test theories and hypotheses from their research. To illustrate why they chose this degree program and how eHRAF has been central to their studies, last year we presented reflections from three students who took part in the first cohort of the program.
Undergraduate students at the University of Connecticut ANTH 1000W Peoples and Cultures of the World, an introductory writing-intensive course in cultural anthropology, produced comparative research papers using eHRAF World Cultures. The papers address a specific cultural behavior or topic of their choice (e.g. romantic kissing) and a related research question (e.g. is romantic kissing a cultural universal?). Students used data from three societies in eHRAF World Cultures to answer their proposed questions in essay form. View their work here.
What would you like to see next?
We are delighted with the growing popularity of our anthropological and archaeological teaching materials and workbooks. For 2023, we hope to develop new materials specifically for cross-cultural researchers in additional disciplines such as psychology, sociology, area studies, arts and humanities, healthcare, and international business and management. If you have ideas about the types eHRAF course materials that you would like us to create for your subject area(s), please let us know.
HRAF Membership Updates

We warmly welcomed 10 Independent Researchers along with 17 academic institutions to the HRAF family in 2022.
HRAF Global Scholars
Throughout 2022, we featured the stories of our six HRAF Global Scholars: Eric Osei-Akoto, José Manuel Rodríguez Arce, Dagnachew Gebrehiwot, Dominique Raby, Yidou Tang, and Raúl Uriostegui.
The 2023 HRAF Global Scholars Program recipients have now been announced. We have five scholars participating in the HRAF Global Scholars Program for 2023 representing the following countries: Argentina, Ethiopia, Indonesia, Kenya, and Venezuela. Please join us in congratulating the successful applicants whose eHRAF research we will feature throughout the year.
Anthropology & Archaeology Day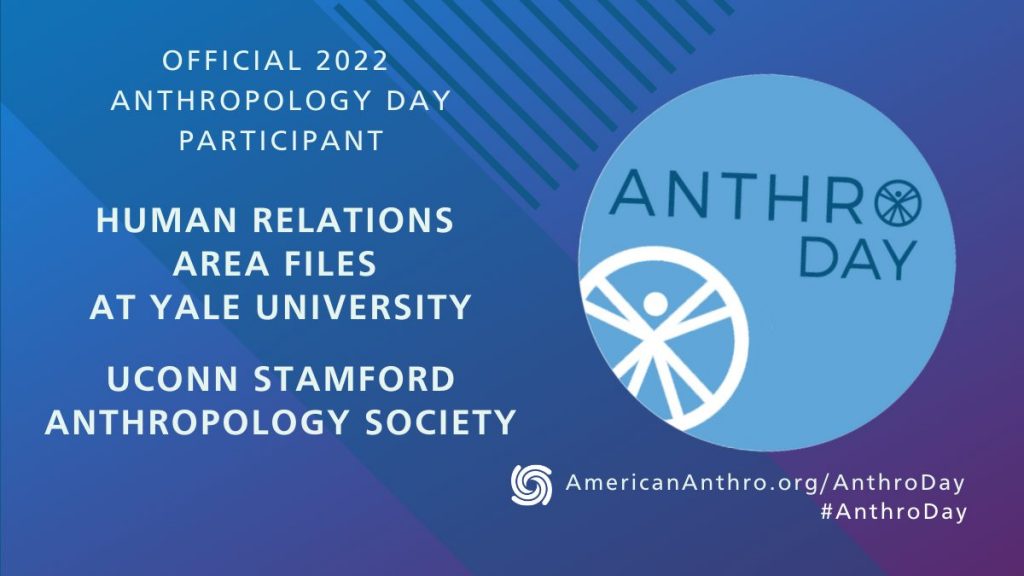 On Monday, February 28th, HRAF hosted its third annual celebration in honor of Anthropology Day. We were pleased to be able to hold a small in-person event for the first time since 2020. A group of undergraduate students from the University of Connecticut visited HRAF for lunch, a Yale campus tour, and a trip to the New Haven Museum. Dr. Carol Ember presented the history of HRAF and a recent cross-cultural research project on loose and tight cultures. Research Assistants Danielle Russell and Anj Droe discussed their work with HRAF's open access database, Explaining Human Culture. UConn Honors students presented their eHRAF Workbook and Nascent Worlds projects from the Fall 2021 semester of ANTH 1000 Peoples and Cultures of the World.
In October, HRAF celebrated International Archaeology Day 2022 with a visit from officers of the UConn Stamford Anthropology Society for a full day of events. The morning began with a Yale University campus tour hosted by followed by a lunchtime presentation from the Yale Archaeology Brown Bag Luncheon series on the topic of lithic scatters. The afternoon featured HRAF staff presentations on cross-cultural research and archaeology.
Top Articles and Posts 2022
The top five articles on our homepage throughout 2022 were:
Some of our posts that had the most "likes" and "shares" on social media were our April Fool's Day post, our Explaining Human Culture module on Hunter-Gatherers (our most-viewed module), and photos of the William Sumner cabinets at the HRAF offices. Don't forget to follow us on Facebook and Instagram!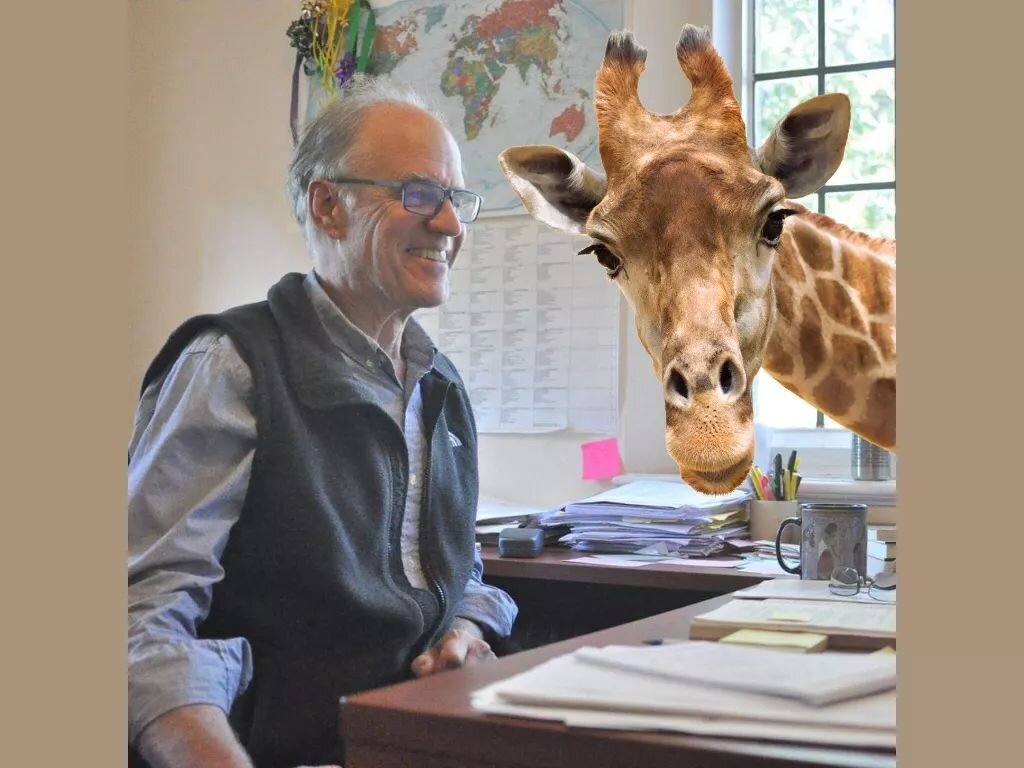 Friends of HRAF


As a small non-profit organization, we greatly appreciate the kind support of our donors. When you join the Friends of HRAF, your generous contribution enables us to advance our mission of understanding cultural diversity through scholarly research and education. It will support funding priorities such as the HRAF Global Scholars program in addition to the ongoing development of our open access resources (Explaining Human Culture, Teaching eHRAF, eHRAF Workbooks, and our online introductory course) for comparative and cross-cultural research.
Did you know that 2024 will mark HRAF's 75th anniversary? We will be inviting our Friends of HRAF to take part in our anniversary celebrations. Details will be available later this year. Learn how to donate today, and join us in thanking our donors from 2022.
Stay in touch!
As always, our Facebook, Instagram, Twitter, and LinkedIn will keep you in the loop, but should you want to get first dibs on our latest announcements, remember to sign up for the HRAF newsletter.